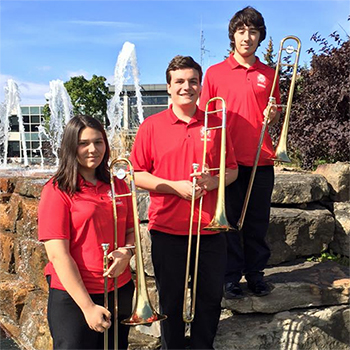 The Specialized Music Program provides your child with the opportunity to realize his/her full potential through the exploration of the exciting world of music!
Rosemount is proud to be the only English High School in Montreal to offer this special program. Our dynamic performance-based program meets and exceeds the required competencies for the Quebec Education Plan. Students are involved in all aspects of music-making; creativity, composition, performance and value.
All students enrolled in the Music Program will learn the following through in-school, and extra-curricular classes:
Play an instrument/participate in a band
Develop their singing voice
Use various types of music technology (including computers)
Use basic piano skills and compose their own music on MIDI stations using synthesizers
Understand and experience music from diverse cultures from around the world and ethnic communities in the Montreal area
Learn the theoretical and historical basis of Western European music
Beginning the Musical Journey
Students starting high school in secondary 1 are not required to have any previous musical training. All instruments and musical materials are provided by the school.
New students are involved in a variety of co-curricular activities which enhance musical learning and the development of self-discipline, concentration and communication. These activities include, but are not limited to:
Participation in public concerts
Participation in major music festivals
Intensive weekend music camp
Private workshops by professional musicians
Attendance of a concert by the Montreal Symphony Orchestra
Artists in Schools Program
Equipment and Facilities
RHS music students have the privilege of having access to some of the best musical resources to be found in any high school. Boasting a full compliment of symphonic wind instruments (of which each students is assigned a practice instrument for the home in addition to their performance instrument), a computer lab with specialized music software, 2 large sound-proofed music rooms and an auditorium that can accommodate an 80 piece concert band, our school has the facilities that allow for student to have a musical experience that few other schools can offer.